September 4th, 2012
Yesterday we traveled to Alegria. The site of the volcano and the small farms that dot the mountain side inside the crater.
Our first stop was at a women named Esperanzsas Cafe and Home. Her Café is the local watering hole and is located on the hillside overlooking the Laguna that occupies the crater of the volcano. She is interested in selling her coffee and because she runs the café is familiar with the other farms who might be interested also. Everyone goes to her place for food ,drinks, and snacks throughout the day. She led us on a tour of her finca. The terrain was very steep and the views just extraordinary. Her land are is small about 1.7 acres, her production will be between 400 and 800 lbs. She raises Bourbon variety and her trees are abundant with coffee berries. While traveling through her trees I came upon all manner of flying, buzzing, and crawling insects. It was disgusting but I soldiered on. She was hysterical at my fright and I became the butt of good natured ribbing for the rest of the day. I had made the mistake of telling them about my incident with the spider legs under my door and on our walk we saw that kind of spider. Actually at one point I saw half a dozen webs all manned by very large(at least for me) spiders either spinning silk around their latest victim or waiting stock still for their next victim to walk into their web and be trapped and doomed to have their vital lives liquid sucked out while they lay helplessly trapped in the bondage of the silk. Their legs(the spiders I mean) are very long with points on the end so when they walk they are walking on these sharp points. It's very mean looking. I don't think they have a sympathetic bone in their bodies, come to think of it they don't have bones but rather exoskeletons. All their vitals held in side by this hard shell like body. That makes it even worse.
Anyway after the walk we settled down for some soda and chips at the café. Stephanie had a serious discussion with Esperanza about her coffee and the logistics of picking and transporting the coffee to Finca Los Angeles where it will be processed. Normally Esperanza would sell her coffee to Unex. They are a large coffee accumulator. The price paid by them for her coffee is not the best and if she borrows money to buy fertilizer or to pay her pickers the interest rate is high. So the idea of each small farm selling their coffee as a micro lot to roasted and sold at Porto Rico is a better plan for everyone concerned. The coffee produced by sporrans and her neighbors is very high quality due to the volcanic soil, altitude, and water from the crater Laguna. Unex being a big firm pays the same to everyone big farm or small, mixing all the coffee together and shipping it to their customers as U.G.Q. coffee (Usual Good Quality), a type of coffee used by big commercial roasters.
Here are a few photos of our visit with Esperanza.
Esperanza amongst her coffee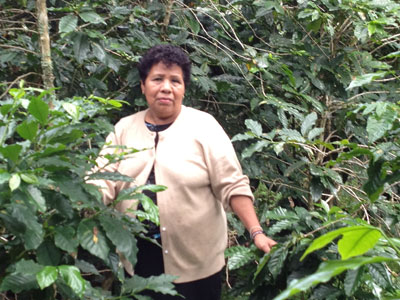 The edge of the crater

The laguna in the crater

It's me and Esperanza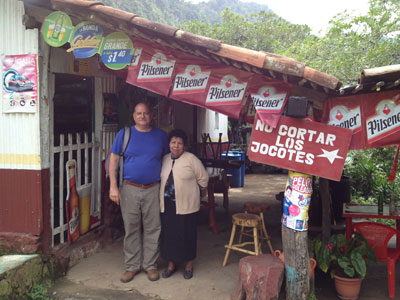 Enjoying chips and a soda after walking the farm

Going down hill